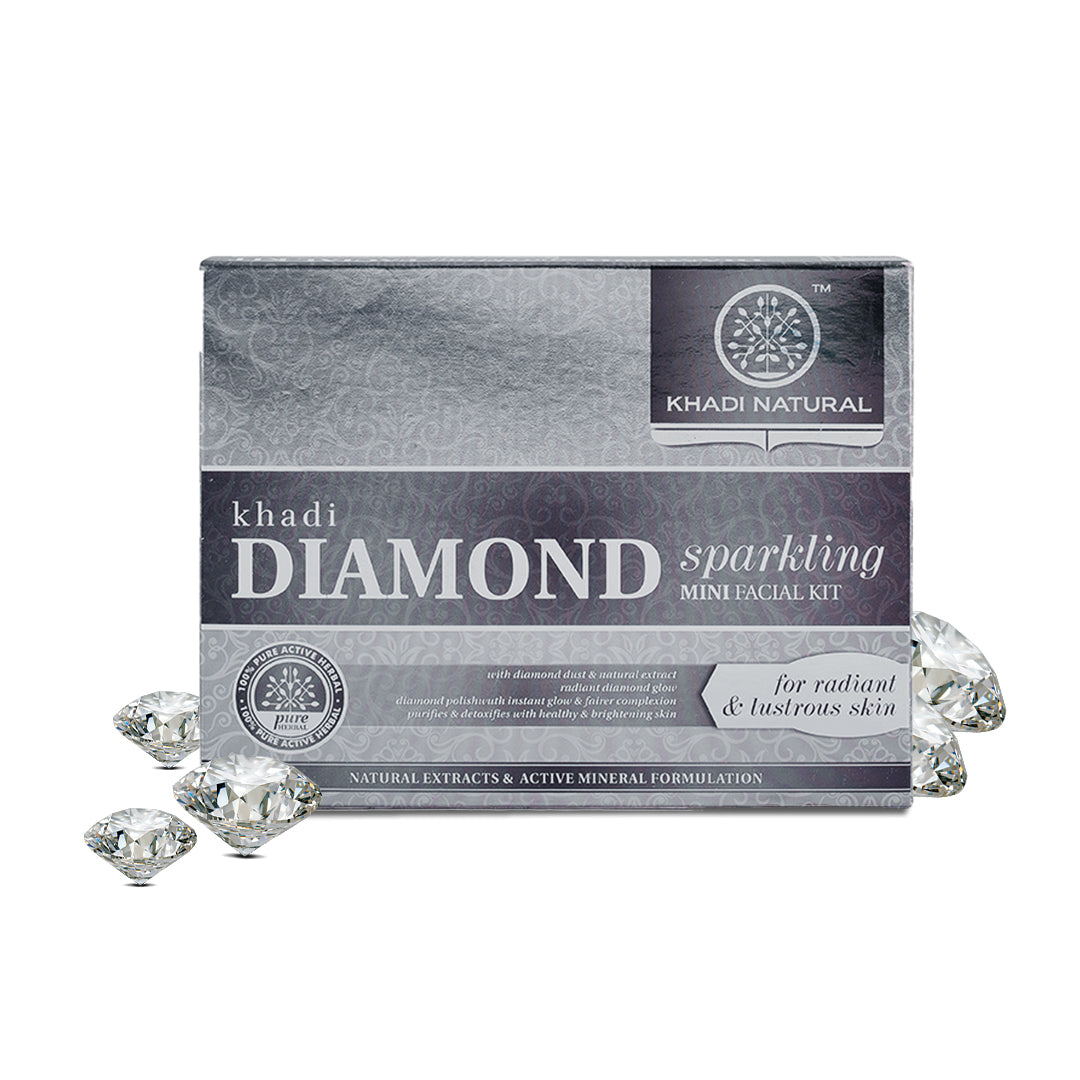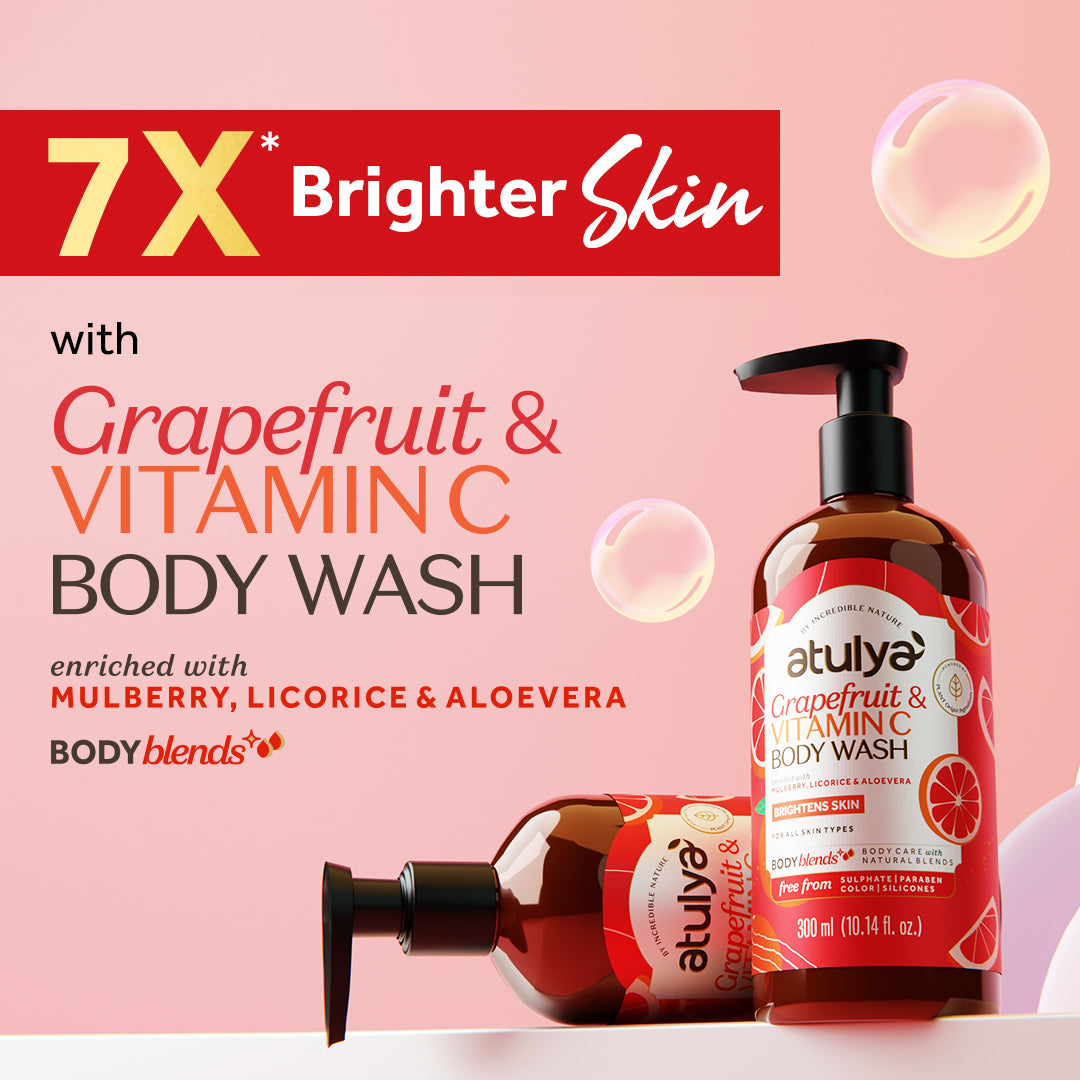 Khadi Natural Diamond Sparkling Mini Facial Kit
Improve The complexion of the skin, Boost circulation, Remove oily dirt
Diamond Sparkling Mini Facial Kit includes the following products with steps & description:-
Step 1 KHADI NATURAL DIAMOND CLEANSER| with cucumber extract
DESCRIPTION: It is a gentle cleanser formulated from natural herbal extracts and pure essential oils. It mildly cleanses removing the build up of impurities on the face. It removes oily dirt, smoother pores and boosts circulation.
DIRECTIONS: Mix a small amount of product with water in hands. Apply and massage into skin with fingertips in a circular motion covering the face and neck for 1 to 3 minutes. Clean it with moist cotton clean with moist cotton.
Step 2 KHADI NATURALTM DIAMOND GEL SCRUB |aloevera based
DESCRIPTION: Helps in removing dead cells. The epidermis is refined. Tones and smoothens the skin making the complexion bright and even. Tightens skin and reduces fine lines and wrinkles.
DIRECTIONS: Apply all over face and neck. Massage gently for 5 to 10 minutes with wet hands. Use circular motion. Massage until cream gets completely absorbed into the skin.
Step 3 KHADI NATURAL DIAMOND MASSAGE CREAM |with kokum butter
DESCRIPTION: It rehydrates skin and enhances its moisture retention capacity. This cream is easily absorbed into the skin and leaves the skin soft, smooth and protects from the dry effects of the sun.
DIRECTIONS: Massage into the skin after cleansing, using upward and downward strokes. Remove it with moist cotton.
Step 4 KHADI NATURAL DIAMOND FACIAL GEL | with basil extract
DESCRIPTION: This gel provides advance defence system and triggers positive changes. Skin becomes toned and smooth and tightened effect with positive changes. Skin becomes fresh with more radiant and skin toned form. Skin becomes firm and hydrated.
DIRECTIONS: Take an appropriate amount of gel and apply all over face and neck. Gently massage till the gel absorbed into the skin. Remove it with moist cotton.
Step 5 KHADI NATURALTM DIAMOND FACIAL PACK |with sunflower oil
DESCRIPTION: This pack boasts collagen formulation and firms skin making the epidermis calmer, smoother and firmer. This formula moisturizes the skin and helps to remove visible signs of ageing of premature ageing.
DIRECTIONS: Apply the mask in a thick layer all over the face and neck area with fingertips. Massage for 2-3 minutes and remove it while rubbing it with water and wash face with cold water.
Disclaimer

The image is for representation purposes only. The packaging you receive might vary.
Choose options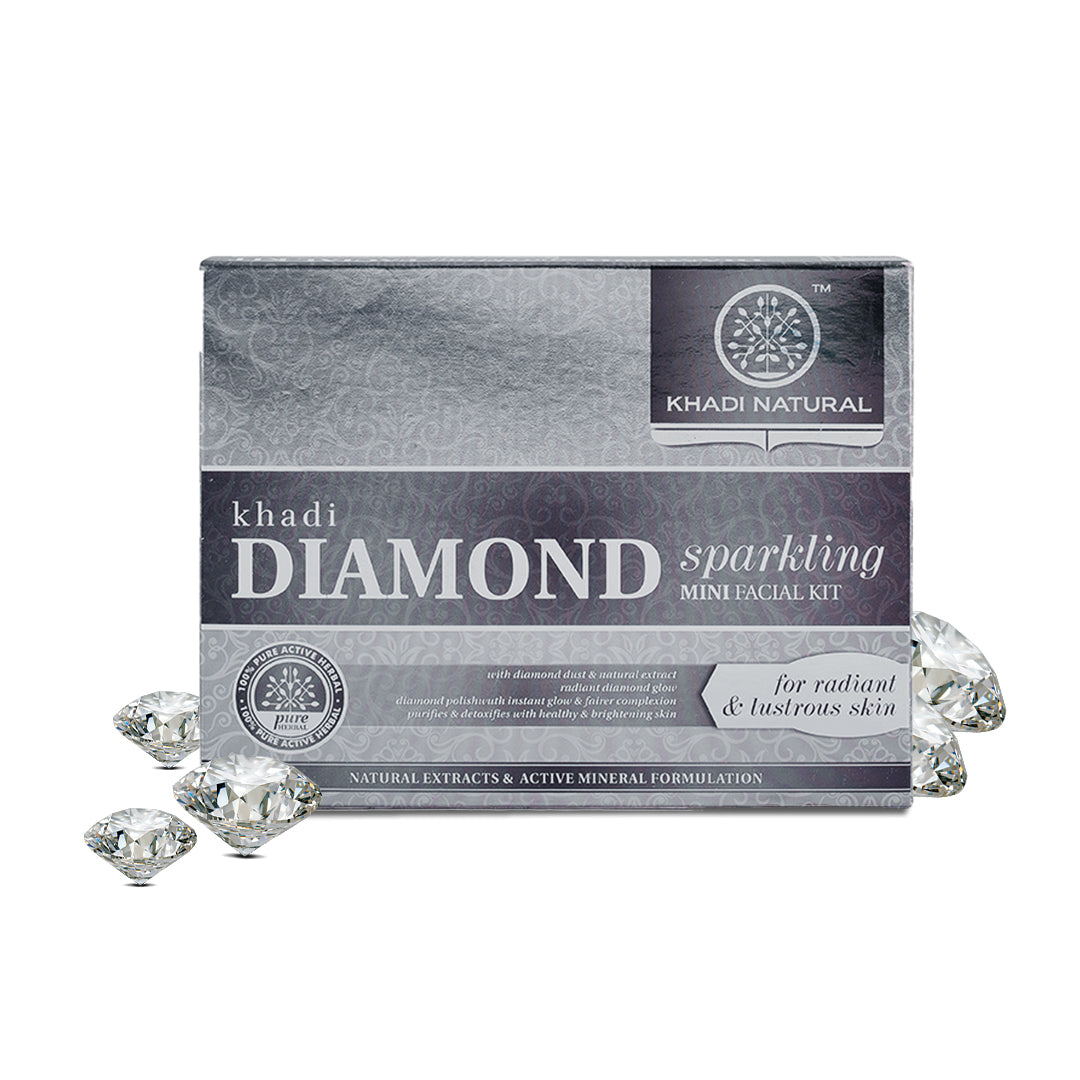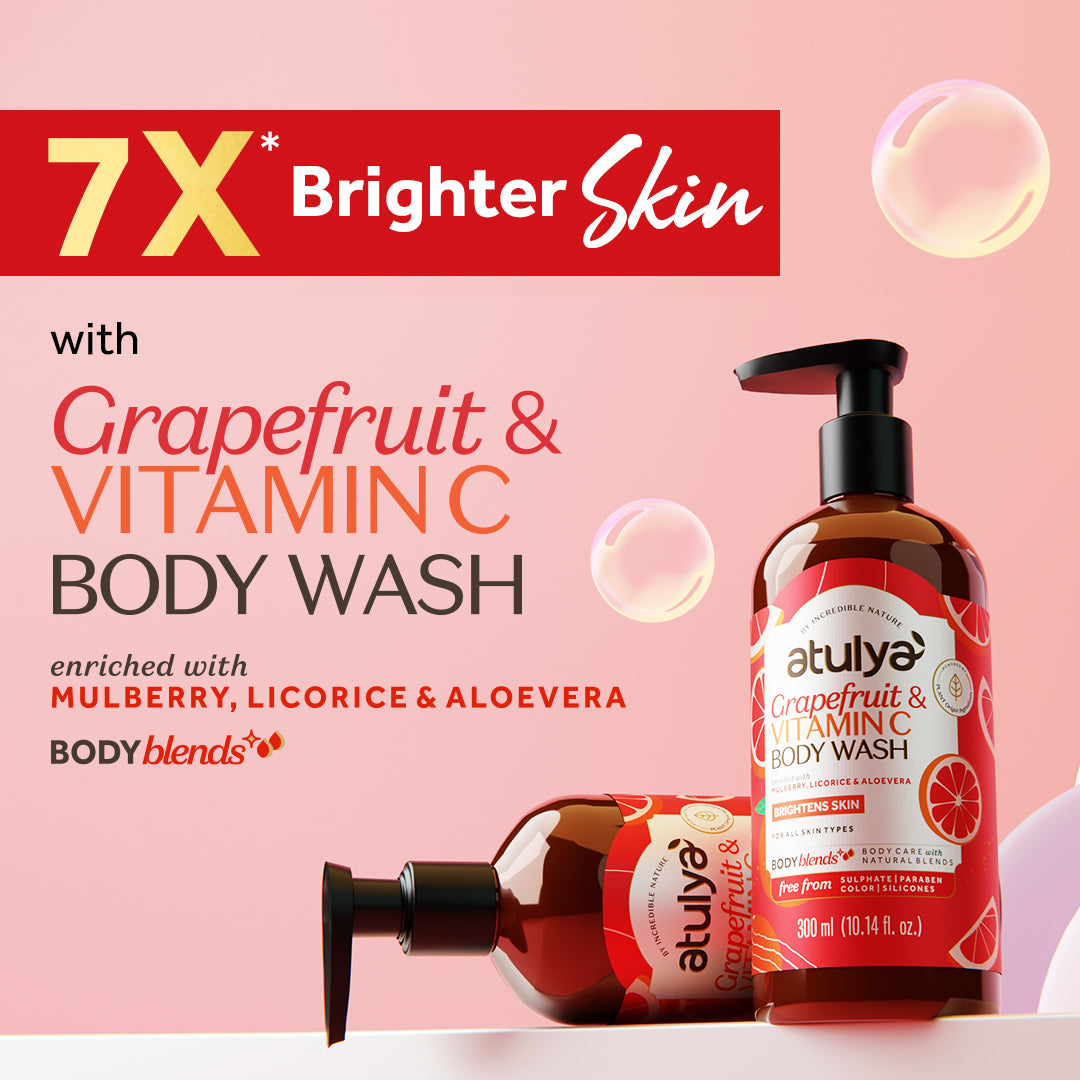 We did not get the products. We ordered 12 products on 11th August and got only 6 products. We paid the entire amount of 2504 rupees. We have talked on the khadi helpline number twice and they assured us both times that we would get the remaining 6 products within 7 days. It has been almost a month and we still haven't got the products. We were asked to mail the image of the products we received. Even the invoice shows only 6 products but the bill amount to be 2504 of the total 12. We have completed the entire process of calling and mailing and sending the image of the delivered products twice. I need to know if you can deliver the remaining products or should we return them? It has been 25 days, please help us through it. We will only be able to review the products once we actually get them
Khadi Natural Diamond Sparkling Mini Facial Kit