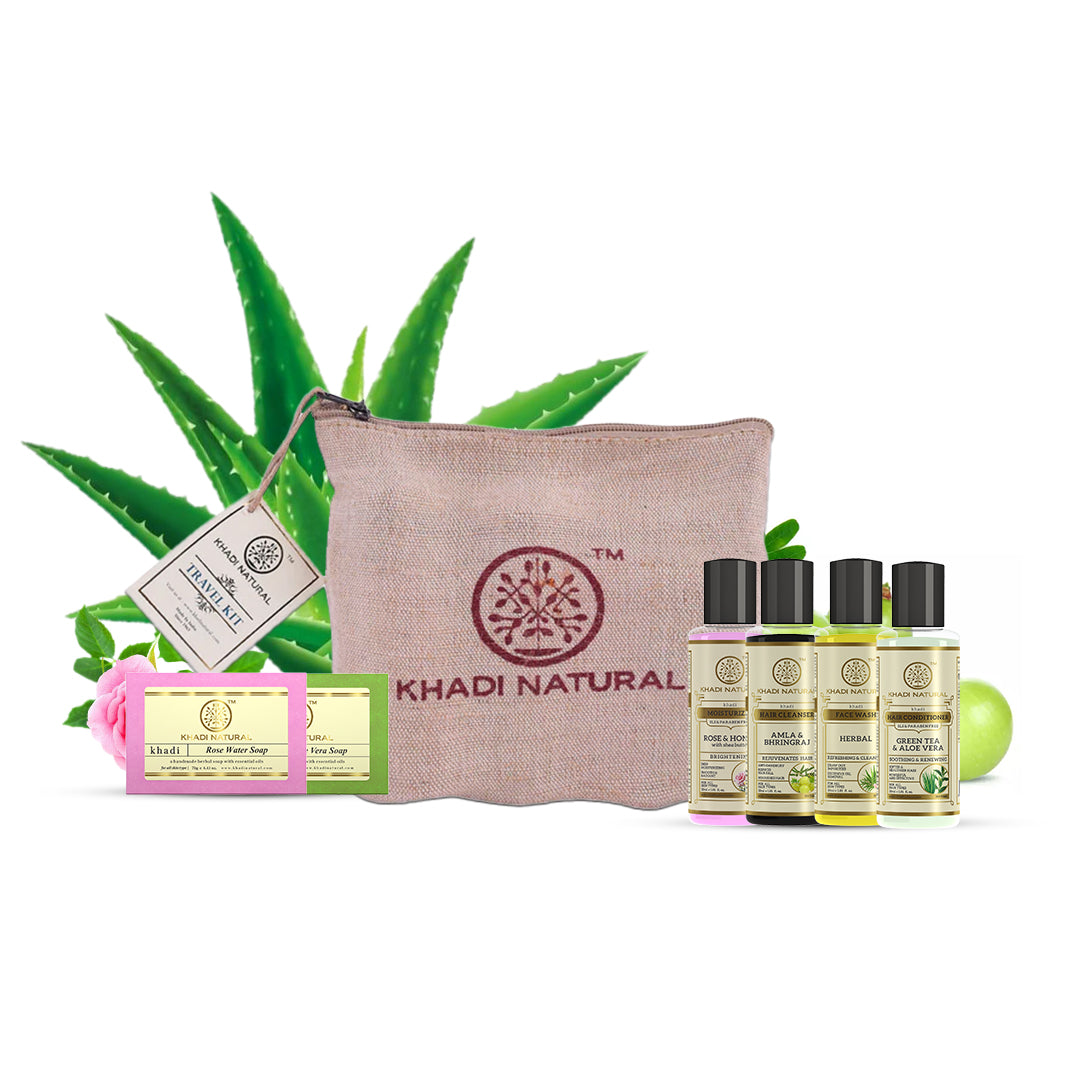 Khadi Natural Herbal Travel Kit
Keeps your skin hydrated, Revitalize your skin, Maintains the moisture balance
Aloe Vera Soap - 75 g- Cleanse, tone, and nourish your skin with natural Khadi Herbal Aloe Vera Soap. This luxurious bathing soap maintains the moisture balance and keeps your skin hydrated. It helps revitalize your skin, calms irritation, and makes it soft.


Rosewater Soap - 75 g - Khadi Natural Rose Water Soap has the goodness of rose petals water and glycerin that keeps your skin smelling heavenly along with keeping it soft and supple. It has mild antiseptic properties that keep skin smooth and velvety. Also, it is free from harsh chemicals like paraben, SLS, and mineral oil.

Herbal Face Wash - 30 ml- Herbal Face Wash is a gentle and refreshing oil-free cleanser formulated with the perfect blend of natural ingredients that deeply cleanses the skin by drawing out impurities and pollutants under the skin that causes acne & pimples. Also, it soothes skin while making it smooth, soft, and moisturized.


Green Tea Aloe Vera Hair Conditioner - 30 ml- Khadi Natural Green Tea & Aloe Vera Hair Conditioner deeply nourishes your hair, making them soft and manageable. With the goodness of green tea and Aloe Vera, this hair conditioner reduces hair fall, prevents the scalp from drying, and improves the overall texture of the hair. Also, this hair conditioner gives your hair a healthy shine. Suitable for all hair types, it is free from harsh chemicals like paraben, sulphate, and silicone.


Amla & Bhringraj Shampoo - 30 ml- Amla & Bhringraj Hair Cleanser has the best ayurvedic herbs & oils that gently cleanse the scalp and hair to make them healthy and strong. It is beneficial for all types of hair and treats thin, rough & oily hair. Enriched with powerful ingredients like Amla, Bhringraj & Reetha, this hair shampoo makes your hair shiny & silky. Also, it controls hair fall, promotes hair growth, and prevents premature greying of hair.

Rose & Honey Moisturizer - 30 ml- Rose & Honey Moisturizer enriched with the goodness of rose & honey that makes your skin smooth and radiant. Its non-greasy formula keeps your skin moisturized without making it oily and locks in moisture for up to 24 hours. It diminishes and restores damaged skin with the natural goodness of honey and rose.

Disclaimer

The image is for representation purposes only. The packaging you receive might vary.
Choose options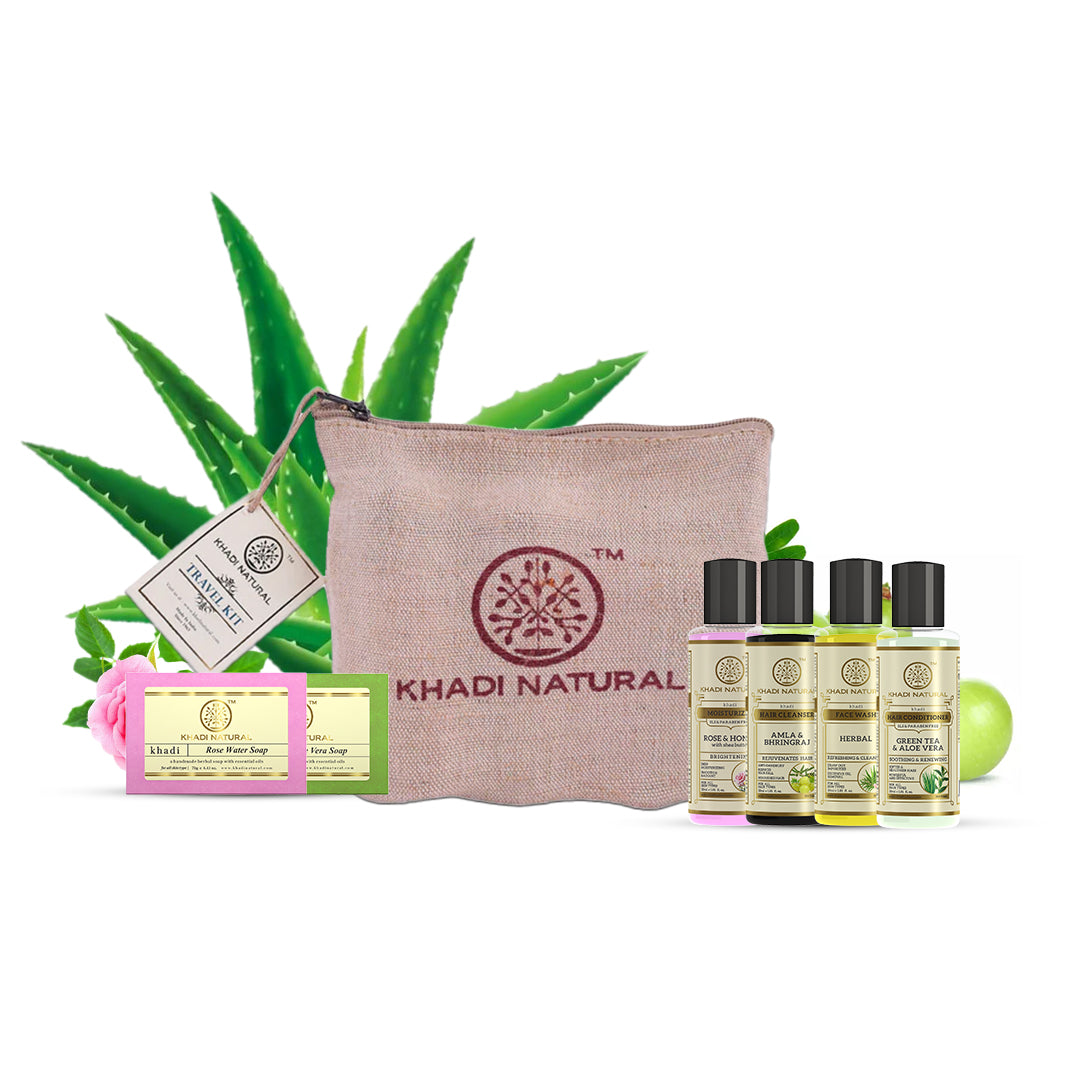 Khadi natural Travel kit
So good product .
It should have easy opening instead of cap bottle opening that's the suggestion
Love the kit
Perfect for travel and great value for money. The pouch is also lovely. Have bought 4 of them till now!!!
Must buy
It's too good. Cute and fit for travel and gift also.